The Gerace Research Centre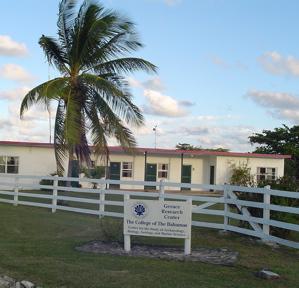 The Gerace Research Centre (formerly the Bahamian Field Station), which occupies a former US Naval Base on the island of San Salvador, has been in operation for over 40 years as an educational and research institution. The Gerace Research Centre provides accommodations, laboratory space, and logistical support for both teachers and researchers interested in the diverse and unique tropical environments available on San Salvador.
The Gerace Research Centre has enjoyed a long and rich history as a field based classroom for a variety of sciences. Geology courses make use of Pleistocene and modern carbonate environments in teaching sedimentology, stratigraphy, paleontology, and field mapping. Biology and Ecology classes make use of the many varied habitats including hypersaline lakes, shrub-covered terrestrial settings, rocky keys, sea grass beds, mangroves, and coral reefs. Increasingly molecular biology and genetics has become common with groups examining oyster and fire coral populations. Archaeology classes focus on both prehistoric and historic sites for which full Bahamian Government approval has been received.
While the sciences have traditionally been the focus of groups visiting the Gerace Research Centre, art classes and literature classes have also recently been taught, with the tropical scenery and rich Bahamian culture providing the focus.