GRC Facilities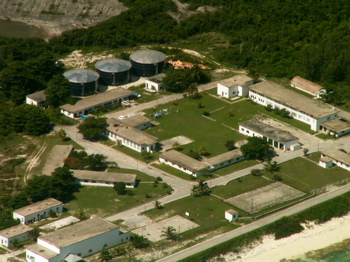 The Research Centre consists of all the buildings necessary to support field research and teaching. It provide separate housing for undergraduates, graduate students, faculty and researchers. The cafeteria serves three fully prepared meals daily, while a snack bar is available for after hours use. Ten laboratory and classroom spaces are available for teaching, as well as two large lecture rooms, a comparative specimen repository, and a wet lab with running sea water aquaria. Research materials are housed in the library, along with computers for internet access. For leisure time activities there are basketball and volleyball courts, and the campus is steps away from the beach.
The Research Centre provides basic laboratory equipment such as microscopes, glassware, sieves, collecting nets and buckets. SCUBA tanks are available for rent at a modest cost. Vehicles for transporting researchers and students are provided to allow access to all parts of the island. Rowboats, canoes, and a zodiac (inflatable power boat) are available to assist with work in the inland lakes, and transportation by power boat to the more distant reefs and keys can be arranged.
Internet service for student use is available in the Library and the Computer Lab, while wireless access is available in most faculty rooms. Several LCD projectors are also available for classroom use.
| | |
| --- | --- |
| Faculty Housing | Undergraduate Dormitory |
| Cafeteria | Graduate Student Housing |
| Specimen Repository/Museum | Truck Fleet |