Field Courses
Since its opening in 1971, the Gerace Research Centre has provided facilities for teaching field courses on San Salvador. Each year, more than 1200 students from over 80 colleges, universities, and educational organizations participate in Archaeology, Biology, Geology, and Marine Science field courses.
While participation in most of these courses requires an affiliation with the sponsoring organization, there are also several independent field courses that are taught each year and open to the public. Information on these courses can be found below:
Taphonomic and Ecological Processes in Tropical Environments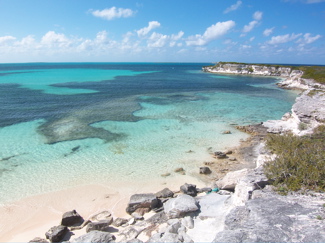 Overview: The 5-week course will focus on graduate-level research in taphonomy and ecology of late Quaternary to Recent environments of the San Salvador Island (Bahamas), including both marine and terrestrial settings. Each student participant will lead an independent project based on field, experimental, or laboratory data. The instructors will assist students, both logistically and intellectually, in developing projects that can generate publishable quality data. San Salvador field sites and laboratory facilities offer opportunities for conducting topically diverse projects from experimental ecology and taphonomy to Quaternary paleoecology and biosedimentary processes.
When: July 6 - August 10, 2012
Where: Gerace Research Centre, located on San Salvador Island, one of the outermost of a chain of some 700 islands that comprise The Bahamas
Who: Students interested in taphonomy, paleoecology, marine ecology, carbonate deposystems, reef paleoecology, coastal environments (both marine and terrestrial), and Quaternary paleoenvironments are particularly encouraged to apply. The course is aimed at graduate students who aspire to develop strong research portfolios. Advanced undergraduate students interested in research-oriented careers are also encouraged to apply. Students from all countries are eligible for admission.
Application Process: Please submit (1) one completed application form and (2) your most up-to-date Curriculum Vitae to Dena Smith. A reference letter should be emailed separately by the academic advisor. The application is due on Feb 1, 2012. Maximum enrollment: 16. The application form can be downloaded at the course website or directly at the following address: http://geraceresearchcentre.com/pdfs/TaphonomyApplicationForm.doc Please contact instructors if you have any questions regarding the course or the application process.
Fees and Anticipated Expenses: Fees and Anticipated Expenses: The course fee is anticipated to be $2300 per student and will cover (1) lodging and all meals for four weeks, (2) access to all facilities at the research centre, (3) transportation to and from field sites around the island, and (4) instructional and advising activities. The fee also includes health insurance for the duration of the course. The fee does not include transportation to San Salvador ($700 to $1000 from the mainland USA). The total anticipated cost per student is expected to be around $3000-$3300 per student.Given more expensive airfare for international flights, the total cost is likely to be higher for international students.
Financial Aid: Students are encouraged to apply for financial aids/scholarships at their home institutions. Additional financial aid may be available from the course organizers. For details see the application form.
Academic Credits: Upon successful completion of the course, each student will receive a Gerace Research Centre Course Certificate for an equivalent of a senior-level/graduate-level 3-credit course. Due to varying accreditation requirements, students are advised to consult their home institution regarding credit transfer viability.
Instructors:
Dena Smith, University of Colorado, Boulder
Michal Kowalewski, Virginia Tech
Thomas Rothfus, Gerace Research Centre