San Salvador Island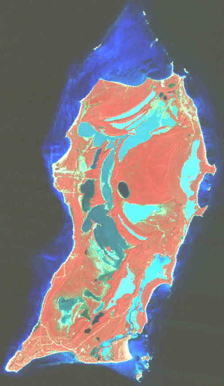 San Salvador Island is one of the outermost of a chain of some 700 islands sprinkled throughout more than 5,000 square miles of the most beautiful waters of the world. Although San Salvador is similar to the other islands of this archipelago, it is unique for its history, ecology, inland lakes, and potential for future development.
In 1492 Christopher Columbus made his first landfall in the New World at San Salvador. At that time the island was populated by the Lucayans, an Indian population which lived by fishing and agriculture. After befriending these people, the admiral explored the island, going north from Long Bay where his fleet was anchored and rowing some twenty miles in search of an entrance through the barrier reef. One such boat canal was found with seven feet of water leading to a deep harbor which Columbus reported "would hold all the ships of Christendom." It is now known as Grahams Harbor.
The harbor remains as it was except for the Gerace Research Centre (GRC), which is located on the berm of a beach composed of calcareous sands.
Much of the interior of San Salvador is made up of lakes which were utilized in days past for transportation. This unique inner island passage promoted the development of several communities on the perimeter of these interconnected lakes. After trampling in the dense bush which covers the island, one can appreciate why this method of transport was used.
Today the island's paved perimeter road traverses through several small settlements which reflect the unspoiled Bahamian natural charm. The largest community, Cockburn Town, is the center of all activities on the island, having the Commissioner's office, Post Office, telecommunication station, and electricity generators.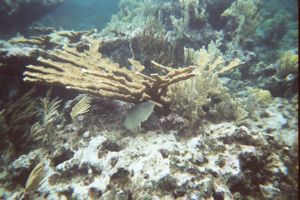 Most descriptions of the Bahamas picture islands basked continually with a warm breeze, blue skies, and long sunny days. This is for the most part true. However, it is not uncommon during winter, when a northwestern front arrives, to have as much as a week of rainy, cool weather. These are days when it becomes too cool to swim and sweaters feel most comfortable in the evenings. The rainy season during the later summer permits the propagation of insects on San Salvador to the extent that the nuisance level becomes almost intolerable during September and October. This, along when the potential for hurricane activity, is the predominant reason for not having field projects during those months of the year. The nuisance level of insects is reduced during the winter and spring dry season.
The waters of the Bahamas are warm, blue, and have tropical reefs which can only be described for their beauty and abundance. Different from northern waters, diving in the sea produces very little comparative air temperature shock. However, many persons require wet suit vests when diving for long periods of time, even in May and June.